Review: Reynolds ATR Wheelset
Posted on May 22, 2015 by onform in Gear Reviews.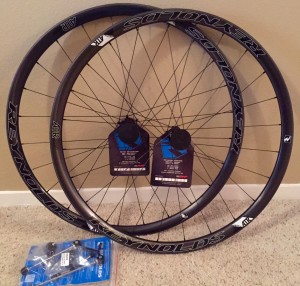 In May 2015 I was fortunate enough to ride the Tour of California race stages with a group of cyclists hours before the pros did.  We rode mostly the same roads as the pros, leaving 3-4 hours before the pros and riding approximately 60-90 miles depending on the stage.
My wheel choice for this adventure was the new Reynolds ATR wheelset, with wider tires. I can't say enough about how amazing this wheelset is. The ATR are solidly constructed, forgiving, and handled the smooth pavement, chip seal, heavily textured pavement, pot holes, broken pavement, and gravel like it was fresh asphalt.
These wheels handled all the category 4 climbs to the colossal HC (hors category) climbs extremely well and felt light and nimble beneath me.  The amazing sure-footedness of center locking disc brakes gave me the confidence (perhaps too much confidence!) to fly down the death defying descents without caution (well, ok, maybe a little bit of caution).  These wheels also handled the rolling foothills of California and the one and only flat stage (stage 1) that we rode, very, very well.  That stage also happened to be very windy and the wheels deflected the cross winds exceptionally well, as I never felt the wind control my bike at all.
The ATR's were further put to the test when riding in a pace line with some less experienced pace line riders that did not point out pot holes. The ATR's handled the unannounced pot holes like a boss with no issues to speak of.
Several other cyclists were intrigued by the wheelset, especially the low air pressure I was running (65 psi front, 70 psi rear), and the wider tire width. That sparked numerous inquiries and discussions with other cyclist about optimal tire pressure.  I did have to remind people that I was able to run the lower tire pressures due to the wide rim profile of the ATR's and the wider tires.
It's hard for me not to go on and gush about my awesome experience with the ATR's, so find a shop that host Reynolds test ride program Ride2decide (http://www.reynoldscycling.com/ride-2-decide/) and try them out for yourself.
Weight: Tubeless Set: 1535g
Width: External: 29 mm , Internal: 21 mm
Rim Depth: 28 mm
Braking: Disc Brake (Center Lock Rotor)
Spokes: 24 front / 24 rear
Spoke Pattern: Front: 2X Rear Non Drive: 2X
Nipples: Reynolds External Alloy
Hub: Reynolds Racing Straight-Pull Center Lock
Included: Tubeless Tape, Valve Stems, 15mm TA Front and 142x12mm TA Rear